20th Anniversary Chili Cook-Off Goes Virtual
South Carolina's largest celebration of animals is going virtual! Due to the COVID-19 Pandemic, we need you more than ever during this 20th anniversary event.  Join thousands of animal lovers to help raise money for Toby's Fund.  This fund provides veterinary medical care for homeless animals at Charleston Animal Society.
While we can't join together in-person this year, we encourage you to raise money on your own virtual team page, hold a "chili with friends" fundraiser at your home or just donate to this important cause.
Leading the pack for our Virtual Chili Cook-off is CBS Dream Team Lucky Dog's Brandon McMillan! He and other two and four-legged celebrities will join us for a star-studded Facebook Live stream event on November 21st.
Start a Team
When you start a team, set your personal goal and win fundraising badges. Funds raised are providing hope and healing for dogs like Harvey.
Support a Team
By donating a team, you are supporting that group's fundraising goal. Funds raised support the medical care of homeless animals through Toby's Fund.
Donate
You can donate directly to the Chili Cook-off. Funds raised for Toby's Fund provide medical care for homeless animals.
Tune In
Join CBS Dream Team Lucky Dog® Brandon McMillan, cook-off teams and celebrity chefs for the 20th Annual Virtual Chili Cook-off.
Saturday, November 21, 2020
5 pm to 7 pm
Facebook Live Event
Frequently Asked Questions
Where will the event take place?
The Virtual Chili Cook-Off event will be streamed live on Charleston Animal Society's Facebook page and simulcast on Live 5 News's Facebook page on November 21, 2020 starting at 5:00 p.m. EST.
The two-hour event will consist of pre-recorded segments mixed in with live feeds from Live 5 News studio and Charleston Animal Society. Think of the Virtual Chili Cook-Off like the old Jerry Lewis telethons, where you watch a few hours of entertainment while donating or helping to raise funds.
There will be no organized gathering to cook and/or sample chili organized by Charleston Animal Society to ensure proper social distancing and limit the spread of COVID-19.
Teams are encouraged to host their own mini chili cook-offs (at home in small groups, virtually on Zoom or other platforms, etc.), and enjoy the spirit of the Chili Cook-Off while still achieving the main goal of raising money for Toby's Fund.
If there is no chili taste testing, how will winning teams be determined?
The Virtual Chili Cook-Off is all about raising funds to allow Charleston Animal Society to continue its vital work to save animal lives. All funds raised by teams and donors through the Virtual Chili Cook-Off will benefit Toby's Fund that provides more than $500,000 in medical treatments to homeless animals each year.
We encourage you to keep the chili spirit alive by having a chili dinner with friends or family and make it a fundraiser for the animals!  
All teams that raise $10,000 or more before November 15, 2020 will have a video segment professionally produced by us featuring your team making their special chili recipe.  These chili team videos will be broadcast as part of the Facebook Live streaming event on November 21st.  
If your team raises $10,000 or more after November 15th, we will contact you regarding ways to recognize your team.
Use the "Start a Team" button and you'll be connected to the JustGiving.com platform where you can log into an existing JustGiving account using your email, Facebook, or Twitch. 
To sign up for a NEW JustGiving account, click on the small words "Sign Up" at the bottom and fill in the required information in the new pop up window.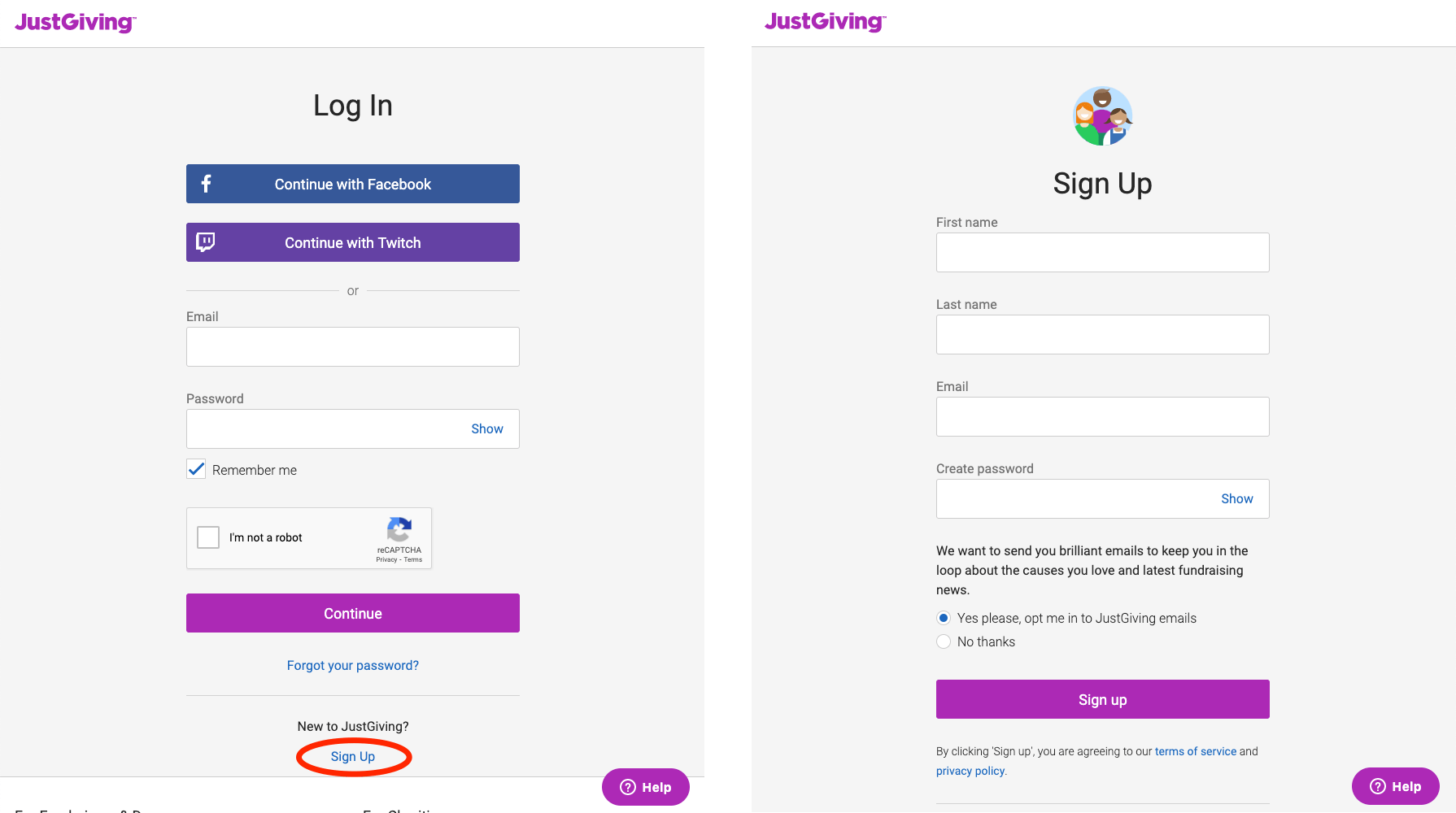 The log in you just used to create your JustGiving account will also be your log in for the team page on the home page for Chili Cook-Off.
How do I add people to my team?
Unlike past years, there are no multi-member chili teams. For the Virtual Chili Cook-Off, YOU form your own "team" and anyone who gives to your team becomes a supporter of your team. Think of it like this, your team is the page you set up to fundraise and team members are donors who contribute to your page.
When you start a team you are creating a place where your friends and family can donate funds in support of your team. Be sure to give everyone the link to your team page to start raising funds and earning virtual recognition badges and other incentives.  
After making a donation, your supporters will have an option to add messages that will post to your page. This year, your "team members" can be from all over the world! Since the cook-off is virtual, anyone can help save animal lives from anywhere.
Can I donate to support more than one team?
YES! Just visit as many team pages as you'd like to donate to a specific team as an individual. For convenience, individuals who register with JustGiving can save payment methods in their own JustGiving.com account for future donations.
I am having trouble with creating my team page. How can I get help?
Send an email to chili@charlestonanimalsociety.org with your question(s) and contact information. Our volunteers and staff will respond within 24 hours to assist. Your team fundraising success is a win-win for your team and all the animals that you help.
How does Charleston Animal Society utilize the contributions?
All proceeds from the Chili Cook-off will go to Charleston Animal Society's "Toby's Fund" that pays for the medical care of homeless animals. Each year thousands of abused, neglected and abandoned animals receive medical treatment that costs more than $500,000! Your generosity helps us save more animals than ever before.
Is my information secure?
Yes. Blackbaud our merchant card processing service, has made every effort to protect your information. We use industry-standard SSL encryption techniques to make sure that your credit card information, passwords, and personal information travel securely over the Internet. We have also installed an encryption engine on our database server so that your data is securely stored.
How can I see who has donated to me?
When someone donates to your team, you will see their name and any comment they make at the time of their donation in the timeline section of your fundraising page. Only those who donate can comment in your timeline. However, your supporters may opt to remain "anonymous" and while your total amount raised will increase, their name will not show in the timeline. Through your JustGiving.com account, you will be able to see a listing of donors that you can download into a spreadsheet.
All of my Donors are not showing up on the scroll mechanism. Why?
As your donors make a contribution, they have the option to make their donation public, make their donation anonymous, and leave a comment. If you do not see a name or comment, the donor may have opted to remain anonymous or not make a comment on your page.
I forgot my Username and Password. How can I log in?
Remember that your username and password are case sensitive. If you go to the Chili Cook-off home page and click "log-in" you will find an option to have your username and/or password emailed to you again. If you still have problems, please send an email to chili@charlestonanimalsociety.org and we will assist.
Blackbaud is a marketing infrastructure service provider offering advanced Internet fundraising solutions to charitable, educational and political organizations. Blackbaud is headquartered on Daniel Island, SC.
Will Blackbaud put my name on various mailing lists?
Blackbaud's JustGiving.com platform collects and maintains only personal information that is voluntarily submitted to Charleston Animal Society. Charleston Animal Society will only share personally identifiable information with a third party if and when the individual submitting this information has permitted us to do so, or if we are required by law to do so. Additionally, when you create an account at JustGiving.com, you can choose to opt of emails just after creating your password.
Why am I being asked to leave a tip?
Blackbaud and the JustGiving charity fundraising platform make their software available for free to non-profit organizations everywhere.  The only way the software can be supplied for free is if charity supporters add a tip to their transaction to cover the development and operations cost with the software.  We appreciate you tipping so that more money donated goes directly to helping animals in need.
Sponsorship Opportunities
Thank You to Our Sponsors


Carolina Reaper - $25,000 Sponsors
Habanero Peppers - $10,000 Sponsors
Cayenne Peppers - $5,000 to $9,999 Sponsors
Jalapeno Peppers - $2,500 to $4,999 Sponsors
Poblano Peppers - $1,000 to $2,499 Sponsors
Our Story
Almost 20,000 animals will turn to Charleston Animal Society for caring, compassion and hope this year alone. From hamsters to horses, in addition to caring for homeless animals, adopting pets into new homes, and reuniting lost pets with their families, the organization responds to animals in crisis as a result of both man-made and natural disasters.
Toby's Fund allows Charleston Animal Society to provide veterinary medical care for animals in our shelter.  The comprehensive shelter medicine program provides direct care for as many as 300 resident animals at one time. The shelter veterinarians spay or neuter pets to prevent pet overpopulation and provide emergency medical services to critically ill and injured animals arriving at the shelter daily.
Our Mission
Since its founding, our mission has always stayed the same: The Prevention of Cruelty to Animals. In 1874, Charleston Animal Society became the first animal organization in South Carolina and one of the first in the Nation and has never turned our local animals away.